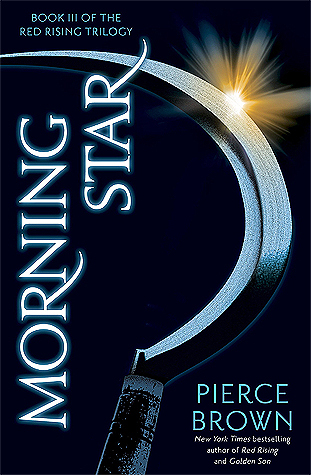 4/5
This is book 3 of the Red Rising Trilogy. If you have not read the previous books, I advise you not to read this review as it will be difficult not to spoil things, although I will try my best not to spoil things.
What is it about?
This book starts a year after Darrow was betrayed by his SPOILER and captured by SPOILER. He's been tortured for a year but his shadow, Sevron, (*swoon*) has not given up on him and has found a way to break him out of his prison.
The Sons of Ares have been suffering from the attacks of SPOILER and are doomed to fade into obscurity, unless Darrow can think of a way to band them together and strengthen their limited supplies.
Was it good?
It was pretty good, but I did not love it as much as the second book, Golden Son. I kept getting confused about whether or not this was the end of the trilogy or if there was another book to be read after this. There is another series, Iron Gold, that takes place after the events in Morning Star but Morning Star is THE END of the Red Rising Trilogy.
I think the emotions involved in the book were not portrayed as well as they had been in the past and while I was FURIOUS enough close my book when Cassius did that thing (SPOILER), I suspected that Darrow had a plan and that most things would turn out okay.
All in all, I would highly recommend this series.
The Reading Quest Update
Quest completed: Grind – Read a book with more than 500 pages.
XP earned: 10
HP earned: 52